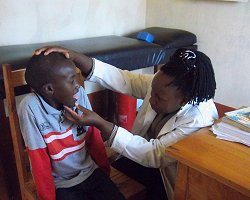 In 1998, Homeopathy, an effective system of alternative medicine, was practically unknown in Kenya. Thanks to the hard work of Abha Light Foundation, a growing infrastructure of professional homeopaths and alternative medicine practitioners are being established for the benefit of the people of Kenya and Africa.
With a network of over 25 trained homeopaths practicing in urban and rural settings, Abha Light is much more than just one clinic.
ALF sets out to create a permanent infrastructure for the establishment of homeopathy and alternative medicine in Kenya; advocates for the full recognition of alternative medicine; and works towards educating traditional healers in modern sciences. To do all that, we have a number of activities.
Abha Light Foundation has trained Kenyans and helped to establish their independent clinics around Kenya. These affiliated clinics serve the communities through affordable, accessible and natural medicine. We network with other NGOs, CBOs and clinics for educational workshops and clinical referral to provide cheap or free health care services using alternative and traditional medicine.